Volunteer: National Public Lands Day Plantings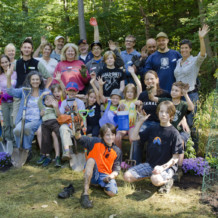 Volunteer: National Public Lands Day Plantings
Registration is required. 
Join us for our 11th year honoring National Public Lands Day, the biggest national volunteer day for public land with often more than 100,000 volunteers on 2,000 public lands sites across the US! We'll be focusing on the lovely Mountain Laurel Trail by planting native trees and shrubs to reduce erosion and enhance wildlife habitat. We will be planting along the Mountain Laurel trail helping to add to the understory of the forest and some trail maintenance to reduce erosion.
**Please note that the planting site is located in an area that includes rough terrain, on a sloped trail and includes some rocky, uneven areas.**
Volunteering details:
Estimated time: 9:00am-12:00pm.
Meet at the Main Park entrance on State Street.
Lunch provided for registered volunteers.
For planning purposes, registration is required. See below!
We highly recommend long pants and long sleeves. Bring gloves if you would like, but some will be available.
If you bring your own tools, please label with your name.
Rain date Sunday, October 8, 9:00am-12:00pm.
Glen Providence Park Main Entrance (State Street)