3rd St. Project
Broomall's Dam background
The dam across Broomall's Run was built in 1883 to create Broomall's Lake for the purpose of harvesting ice, and was later used for recreational swimming and boating. In 1980, the structure was in need of reconstruction, and the Army Corps of Engineers declared it unsafe. In 1996, Media Borough closed the roadway over the dam due erosion on the south side of the dam and road. In 2017, due to the continued unsafe condition of the structure, the dam was partially removed by the PA Department of Environmental Protection (PA DEP).
For a more detailed history of the project, read our History of 3rd Street Bridge/Dam.
2023 Update: Conservation Easement and Pedestrian-Bicycle Bridge
In February of 2023, Delaware County Council announced that they had arranged a conservation easement agreement with Broomall's Lake Country Club, preserving four acres of the swim club's property closest to the county's Glen Providence Park. This agreement nullifies the 2016 stipulation and eliminates the legal knot that required an unnecessary high-hazard dam.
In June of 2023, Media Borough Council announced that they were revising designs for the Third Street Bridge to be exclusively for pedestrians and bicycles, a solution Friends of Glen Providence Park has supported for years as the most environmentally-sensitive connection between Media and Upper Providence.
A new dam would damage the park
A portion of Glen Providence Park is under threat from the planned reconstruction of Broomall's Dam. The current design and construction would damage 1.1 acres of the park where there is currently waterfalls, wetlands, and mature trees, replacing them with earthfill and a grassy slope for the new, larger dam. No trees, or anything other than closely mowed grass, would be permitted on the slope. The design would also reopen the bridge to automotive traffic, compromising an area that has evolved into a peaceful pedestrian walkway through the natural areas surrounding Broomall's Lake and Glen Providence Park.
Friends of Glen Providence Park is seeking to positively influence the design of the project in order to minimize damage to the park and to prioritize the needs of pedestrians and cyclists. We encourage maximum public participation in the design and decision-making process. We have, in earlier phases of the project, created a petition, and supported dam removal and a pedestrian and bicycle greenway.

The evolving legal status
In May 2011, Media Borough Council signed a three-party stipulation agreement with Delaware County and Broomall's Lake Country Club (BLCC) to build a new dam – indicating that the Borough had responsibility for funding and managing the construction of the dam, and BLCC and the County would share the long-term responsibility and the costs of future maintenance. Ownership of the proposed new dam was NOT established by the stipulation agreement.
After a year of active advocacy by our organization and others at public meetings, in May 2012, Media Borough Council voted to move forward with dam reconstruction, despite clear public support for dam removal. In September 2012, Council voted on a compromise design for the dam with a one-way road, from Upper Providence into Media. We decided to support this compromise resolution for reasons explained in our Letter to the Editor.
Since that time, there have been further developments:
On September 28 2012, Broomall's Lake Country Club (BLCC) filed a Petition for Contempt over the one-way road design.
In February 2013, due to lack of agreement, Judge Proud vacated the Stipulation Agreement between the County, Media Borough and BLCC.
We resumed our position in support of dam removal and stream restoration, with public discussion about an environmentally sensitive bridge between Upper Providence and Media Borough.
Then in December 2013, the PA Commonwealth Court reinstated the Stipulation Agreement, and remanded the case to Judge Proud to resolve.
On June 27, 2014, we were disappointed when Judge Proud ruled in favor of BLCC's Petition for Contempt and Enforcement of Stipulation and Order. He ordered the Borough to "proceed with due diligence in compliance with the Stipulation and Order." That decision did not resolve the underlying issues of dam ownership.
On July 16, 2015, Media Borough Council unanimously passed a resolution stating that Media was not an owner of Broomall's Dam and they would not sign on as owners of Broomall's Dam on the permit or Emergency Action Plan.
In October 2015, the PA DEP announced that, for public safety reasons, they would do a controlled breach of the dam. This was planned as a temporary partial dam removal until the proposed new dam is built.
In July 2017, the PA DEP partially removed the dam. We led a coalition that presented a Footbridge proposal in May 2017 to County Council for a footbridge to span the breached dam, or to be installed downstream, to maintain access between Upper Providence and Media Borough. We also provided a supplement with footbridge installation information. The proposal was ultimately denied due to cost and DEP regulations.
In July 2019, we made a detailed statement to County Council about the adverse impact that the proposed dam would have on Glen Providence Park, and emailed a pdf of our statement with links and exhibits (pages 1-4, 5, 6, 7, 8).
Schnabel Engineering continues its work for Media Borough to build a new dam.
As of July 2021, neither the County, the Borough, nor the swim club had agreed to sign as owner on the required permit application to the PA DEP. It is our understanding that the PA DEP will not approve a dam application without an owner – as there needs to be a responsible party for future maintenance, repairs, and liability for the high-hazard dam.
At their October 6, 2021 legislative meeting, Delaware County Council announced an ordinance to take 4.7 acres of the Broomall's Lake Country Club's property, bordering the northern edge of Glen Providence Park, by eminent domain. Ordinance # 2021-10 references acquiring "private property for the purpose of establishing, making, enlarging, extending, operating and maintaining public parks and multiuse trails within the limits of the county."
Read more detailed updates about the negotiations here. We will update this space with the final outcome!
A complex situation
The ownership, legal, financial and safety issues make Broomall's Dam and Third Street Bridge a particularly complex and difficult issue to understand. See our 3rd Street FAQ to learn more about the stipulation, the funding issues and who is responsible for the dam.
Be informed
There are well over 300 pages of documents about this project on the Media Borough website. Take a few minutes and read our Guide to the Bridge/Dam documents, and decide which documents to review for yourself! Leading up to the August and October Public Meetings in 2011, we had a lot of questions about those documents and the project, which we submitted to the project engineers. Read our Condensed Q&A for their responses!
For more information on the Broomall's Dam project, read through our dozens of articles, and visit the website of our sister organization, Keep Media Green.
Click on these images for a closer look: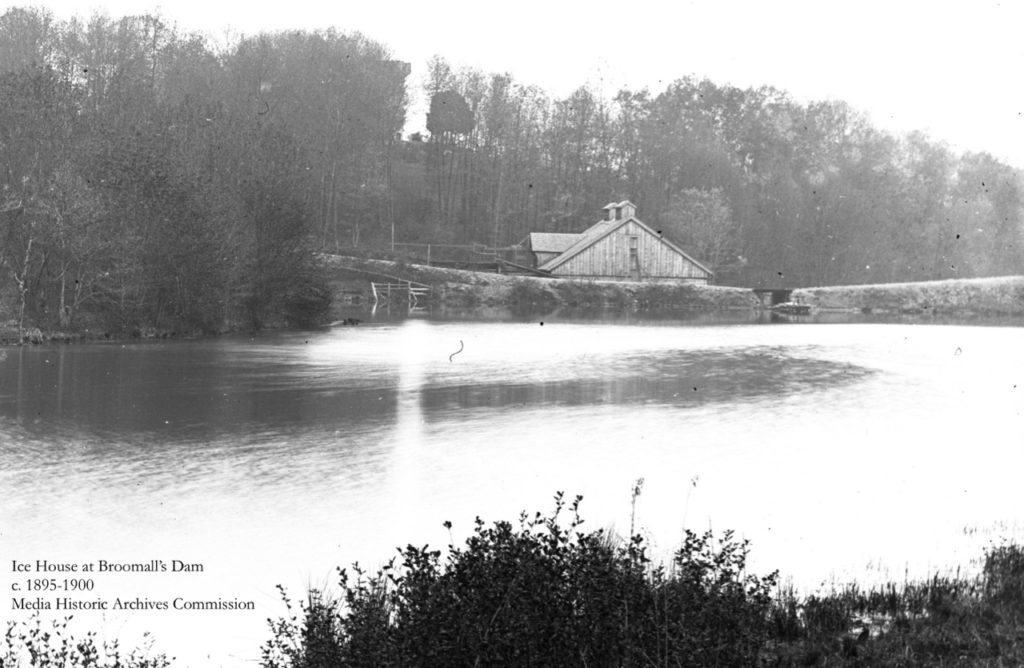 Information last updated June 2023 (5-2022)