Another Butler legacy: golf in Delaware County!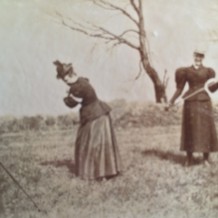 While researching the history of Glen Providence Park, we've had no shortage of interesting discoveries and unexpected connections – one of the most wonderful involves the park's founders, George T. and Eleanor Reed Butler! A few years ago, we came across an article indicating that Eleanor Reed founded The Springhaven Club, the first golf club in Delaware County: "Springhaven's story begins in 1896 when Eleanor Reed of Media returned from Europe where she was introduced to the game. Fired with enthusiasm, Miss Reed campaigned for a course and was instrumental in the leasing of a dairy farm at "Five Points" on Providence Road and Jackson Street, Media." (Daily Times, July 26, 1972)
After meeting the Butlers' grandson, Clifford Butler Lewis, I remembered that article, and asked him if that was the same Eleanor Reed as his grandmother. He did not know of Springhaven, but he did have his grandparents' antique golf clubs! We contacted Springhaven to see if this was the same Eleanor Reed, and were delighted with what we learned – not only was Eleanor Reed Butler a founder of Springhaven, they hold an annual Eleanor Reed tournament in her honor! Just as Cliff had not known about his grandparents' involvement in the founding of Springhaven, Springhaven had not known of the Butlers' other legacy, Glen Providence Park.
Both Eleanor and George Butler are featured in the preface to The History of the Springhaven Club 1896-2004: "In November 1896, when Miss Eleanor Reed hit the first golf shot off the first tee at "Five Points," Springhaven was launched. She was joined in that first foursome by Dr. Casper T. Miller, Henry P. Dixon and young George T. Butler. It is said that Eleanor let George win that day and it was only months until they became engaged and later married." How fun that romance is part of the story! George became the first president of the club, and Eleanor the first secretary.
There were only four golf clubs in the Philadelphia region at the time, about eighty in the United States, and none in Delaware County. The Merion Golf Club was also founded in 1896, in Montgomery County – it did not move to its current location in Delaware County until 1912. Springhaven remained at Five Points in Media for eight years until it moved to Nether Providence in 1904, and is indeed the first golf club in Delaware County.
George and Eleanor Butler were married in 1902 and had one daughter Mary, Cliff's mother. In 1905, they moved to the John M. Broomall house in Media, connected to the land that would become the park. In 1935, the Butlers donated the majority of the land to Delaware County for Glen Providence Park, as a Bird Sanctuary and Arboretum.
Cliff Lewis generously decided to donate his grandparents' golf clubs to The Springhaven Club, where the Butlers had very likely used them! Appropriately enough, Springhaven invited Cliff to do so at the annual Eleanor Reed tournament luncheon in April. Cliff brought more treasures with him: he loaned his grandmother's photo albums, including photos of the original club house at Five Points, of his grandmother playing golf, and of other Springhaven founders! He also brought an image of a wonderful portrait of his grandfather George T. Butler.
I was honored to attend the luncheon with Cliff and his wife Chris. Cliff shared engaging stories and photographs of his grandparents. He had intended to donate the golf clubs to the United States Golf Association Museum in New Jersey, but was happy that he learned of Springhaven before he did! It was wonderful to see these pieces of history connected, and to see the golf clubs find their home. It is remarkable to think that George and Eleanor Butler had two such lasting legacies in Delaware County – The Springhaven Club and Glen Providence Park.
Thank you to Cliff Lewis for sharing his grandmother's photographs and for being so thoughtful to include me at the luncheon, and to Bonni DiRenzi and Jim Galvano of The Springhaven Club for their graciousness and hospitality.
Read more about Eleanor Reed Butler in our article about the waterfall that is dedicated to her in Glen Providence Park. You can see some of the photographs from Eleanor Butler's photo albums, and from the luncheon, below! Just click on any photo for a closer look.
Sources:
– The History of the Springhaven Club 1896-2004 by Bob Labbance & Patrick White, 2004, Notown Communcations Company
– Golf Club of Philadelphia website
– Eleanor Reed Butler's photo albums!
– Newspaper Archives of Delaware County Library