Summer 2013 Photojournal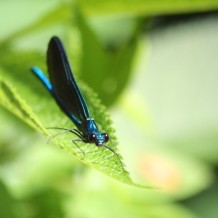 Summer is fast approaching, it's time to catch up with last summer's photojournal of Glen Providence Park! It's interesting to look back at what plants and wildlife are prevalent through the seasons and years. Here's a sampling of what can be seen as the thermostat rises…
Last summer we had record rainfall, with the wettest July on record! It was second in total rainfall only to August 2011, which had brought us Hurricane Irene. Torrential rain in July both dislodged the pond intake, eliminating flow to the pond, and moved the boardwalk in the wetlands on the Shingle Mill Trail over several feet. We and County Parks were able to stabilize the pond intake (with repeated rock-moving!), but the boardwalk is still displaced.
All that rain had the plants growing fast – making the park especially lush, and keeping our Invasive Plant Removal crew busy! Blooms were a little late after a cool Spring – the Mountain Laurel along its eponymous trail was in bloom in the first week of June, while the native Rhododendron along the Ice House Trail bloomed later than usual, in the last week of June.
In summer, the pond is abuzz with life including damselflies, dragonflies, butterflies, and bees. Children (and adults!) love watching turtles and frogs at the pond, and fishing is a common activity. For those who look closely, there is much more to discover in the park – including fungi, which are amazingly varied and can be surprisingly elegant.
You can click on any photo below for a closer look, and scroll through them all – and you can also view them on our flickr page!  There are more pictures in our facebook albums, and in our Summer 1.1 Acre Project photos. You can compare our 2013 Summer to other years in my photojournals for June and July 2012, and my first photojournal from August 2011.  
[AFG_gallery id='12']