Prepare for the Special Meeting!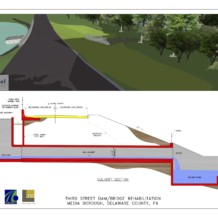 There is an additional Special Meeting about the 3rd Street Bridge/Dam on Thursday, October 13 at 7:00 pm.  In the mean time, the engineers continue to work on the existing bridge/dam design.
It is vitally important that we prepare for that meeting and ask informed questions if we are to reduce the impact of the bridge/dam design on Glen Providence Park!
There are over 300 pages of documents about this project on the Media Borough website.  Take a few minutes and read our Guide to the Bridge/Dam documents, and decide which documents to review for yourself!