76 years in the park: the Swamp Man, pie eating contests & more!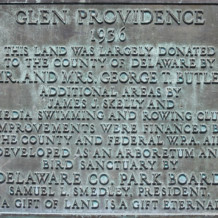 When Mr. and Mrs. George Butler donated the land for Glen Providence Park in 1935, it was the first park in Delaware County.  Dedicated as a Bird Sanctuary and Arboretum, this park has hosted an amazing array of events and activities in its 76 years, not to mention the habitat it provides for plants and wildlife!
Long before summer concerts in Rose Tree Park, Glen Providence Park had incredibly popular outdoor concerts, from 1937 through the 1970's.  And the 4th of July fireworks that were held annually from 1954 to 1986 drew crowds in the thousands!
Events were not restricted to summer- the Halloween Haunted Woods in the 1980's included a "swamp man" in the pond!  In winter, ice skating at the pond was enhanced with a cabin for warmth and lights around the pond for nighttime skating.  And generations have enjoyed the spectacular sledding hill at the main entrance!
Easter sunrise services were held in the park through the 1940's.  Easter also heralds the longest running event in Glen Providence Park- the Annual Egg Hunt started in 1954!  Other events in the park's past include fishing derbies, pie eating contests, even picnics for University of Pennsylvania fraternities.
The natural environment of the park is enjoyed year-round by hikers, bird watchers, dog walkers, and children.  From the park's beginning through the present day, school classes have visited the park to study nature.  Until at least 1970 there was a park guard, whose role was part caretaker and part park ranger, helping visitors identify plants and wildlife.
Glen Providence Park was the pride of the county in its early decades.  Due to the elegance of its plan and its original structures, in 2002 it was determined to be eligible for the National Registry of Historic Places!
Yet in all its 76 years, Glen Providence Park is perhaps the most relevant today.  With concerns about gas prices, the economy, health, and wildlife habitat, a walk through this park provides a free family outing within walking distance of thousands of local residents.  Exercise and stress relief? They're unavoidable while exploring this beautiful park.   Its land provides a haven for an array of wildlife and native plants.  Glen Providence Park could not be more valuable.
The dedication at the park's main entrance ends with, "A gift of land is a gift eternal".  What an incredible gift it is!
Our Letter to the Editor in September 2011
By Stephanie Gaboriault