10-13-2011 Bridge/Dam Public Meeting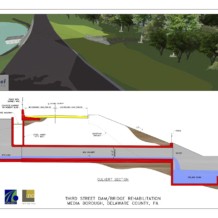 This is it!  If you would like your questions answered or your opinion heard, this meeting is your chance.  Join Friends of Glen Providence Park and other concerned citizens as we meet with Media Borough Council and the Bridge/Dam engineers.
Thursday, October 13
7:00pm
Media Borough Council Chambers, Media Borough Municipal Center
301 N. Jackson Street, Media
It is important to prepare for the meeting in order to ask relevant questions!  The Borough has posted over 300 pages of documents about the bridge/dam on their website.  Take 5 minutes to familiarize yourself with their contents: read our Guide to bridge/dam documents.  And review our 3rd Street Bridge/Dam page for an overview of our position.
Come give your input!