September Wildlife Sightings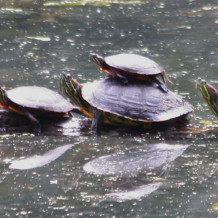 Our 2nd month documenting park wildlife and happenings…  In the first few days, we noticed that the Cicadas had ended their "singing" for the Summer, and we saw our first Fall foliage- it was beginning to feel like Fall!  Then rain, heat and humidity took over for what seemed like the whole month.  And that following August, which was Philadelphia's all-time rainiest month on record!
Delaware County Parks promptly removed the 94-year-old downed oak tree from the pond, causing the Red-eared Sliders to return to their previous basking places… including eachother's backs!
We were able to catch a photo of one of the (at least) two Common Muskrats living at the pond.  A long-time resident told us that Muskrat sightings used to be common in the pond and in Broomall's Lake.
The Ruby-throated Hummingbirds we saw on several visits were just too fast, however. Not surprisingly, their wing speed is dozens of beats per second!
We saw a Groundhog (also known as Woodchuck) by the pond, and the usual Eastern Chipmunks.  And American Toads could be spotted hopping through the woods along the trails!
We introduced a Fungi album on facebook.  These are not part of the plant kingdom, as they do not carry out photosynthesis.    It is amazing how many different kinds you notice, when you start to look!
The magnificent Great Blue Heron can stand 4 feet tall! It is also vocal, calling frequently in flight- we watched and listened as two flew over the pond! This appears to be a juvenile (1st year)- perhaps from the nest said to be at Broomall's Lake?
We were delighted to see the lovely Wood Thrush.  Its flute-like song has been enchanting visitors to this valley since at least the 1800's, when the land was called Scroggie Valley!  You can listen to its song here.
Not your everyday park scenery… the erosion at the bottom of the sledding hill and along the stream is challenging to manage. We appreciate the work the County is doing!  And we are meeting with them to see how we can help.
We are not the only ones tracking changes in the park: a Media Providence Friends School science class visited the park and took water samples for testing, and they plan to help us document the park's plants and wildlife!