It's A Wonderful Life… at Glen Providence Park!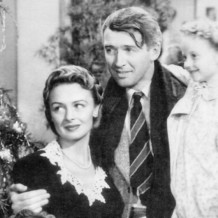 An amazing 1933 account of a girl rescuing her younger sister from icy water at Broomall's Dam is remarkably similar to that of George Bailey rescuing his younger brother in the 1946 Christmas movie It's a Wonderful Life.
In the movie, George's younger brother Harry falls through the ice on a frozen pond while sledding on shovels. Twelve year old George rescues Harry, but loses hearing in his left ear due to a resulting infection.  In the real-life incident at Broomall's Dam, 9 year old Alice Gollis and her 6 year old sister Mary Jane were "sliding" while watching skaters on the lake, when Mary Jane fell through the ice.  Alice  fell through the ice herself while working to save her little sister Mary Jane, but succeeded in rescuing her, even after Mary Jane went under water.  Mary Jane  stayed at "a nursing home for convalescents" to recover, and her big sister Alice was reported two days later to be "still suffering from the effects of her cold plunge".
Broomall's Lake is retained by the 3rd Street Dam, and it marks the northern border of Glen Providence Park.  It was originally called Broomall's Dam, and was a popular ice skating spot since its creation in 1883.  According to a 1937 Chester Times account, after the man-made pond in Glen Providence Park was created in 1936, "the smaller boys and girls" would skate at the pond, while the big kids and adults skated at nearby Broomall's Dam.  The park's pond was considered safer for younger children: due to its shallowness, a park guard looking out for them, and nighttime lighting!
So is there any chance the 1933 Broomall's Dam incident inspired the rescue scene in the movie It's a Wonderful Life?  Well, the screenplay is based on the story The Greatest Gift by Philip Van Doren Stern, first sent as a 24-page Christmas card in 1943, and later published as a book.  I was initially encouraged to find the author was born in Pennsylvania and raised in New Jersey.  But I bought the book… while it does include a pond accident where George saves his brother Harry, it is a swimming accident that takes place in August.
Could director Frank Capra or the screenplay writers have heard of the Broomall's Dam sister rescue? Though 4 of 5 contributing writers lived in nearby states New Jersey or New York, I found no evidence the story was circulated beyond the Chester Times.
I also found no further record of Alice or Mary Jane Gollis.  It is unknown how little Mary Jane recovered, or if like George Bailey, Alice lost the hearing in her left ear… regardless, Alice was one incredible big sister!
For Glen Providence Park's connection with Charles Dickens' holiday classic A Christmas Carol, see our post about Ebenezer Scroggie.