Greenways: The basics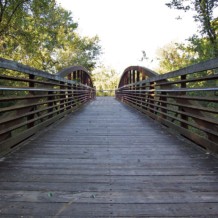 We've published a few posts about great greenways, both in Pennsylvania and nationally. Overall, governments and citizens are realizing the benefits of open space, greenways and alternative forms of transportation.
Benefits of Greenways:
safe, family-friendly transportation
improved air and water quality
floodplain protection
healthy transportation
better habitats for plants and animals
protection for historic and natural resources
improved recreational opportunities
Greenways have been shown to have positive economic impacts as well, from improving home values to increasing local economic activity. Delaware County is working on a master plan for the western part of the county, and just held its first public forum on the subject. It is already implementing its Greenway and Open Space Plan for Eastern Delaware County. Philadelphia and partners along the Brandywine River are also creating major greenways.
Glen Providence Park Greenway
We'd like to see Glen Providence Park included into a larger county-wide greenway plan, with the 3rd Street Bridge becoming a pedestrian and bicycle "green bridge." We think a greenway would be an extension of the park and the natural area of Broomall's Lake Country Club. Right now, with the bridge currently closed to automotive traffic, it is easy to envision the serenity and beauty of a real greenway, and how it would become a part of the park while connecting Upper Providence and Media.
Regardless of the decision on the dam, a greenway would improve the park and create a beautiful, family-friendly gateway to Media.
Some people worry about the restricted access to Media from Upper Providence. The truth is, for most locations in Upper Providence, taking a state-maintained road such as Orange Street or Baltimore Pike to and from Media is the most efficient choice. According to online maps, going across a 3rd Street bridge by car would reduce the trip for only about 150 households. And for those houses in Upper Providence that are closest to 3rd Street, the most efficient trip is actually a walk into Media. Some Upper Providence residents have expressed a preference for a pedestrian greenway, because it makes their walk into Media safer.
Smart Transportation
Pennsylvania's Smart Transportation Guide articulates many themes that support the construction of a greenway in Media:
Accomodate all modes of travel
Enhance local network
Build towns not sprawl
Understand the context; plan and design within the context.
A greenway would be a smart, family-friendly choice for Media and Upper Providence, as well as Glen Providence Park.
More resources: http://www.dcnr.state.pa.us/brc/conservation/greenways/index.htm http://www.americantrails.org/resources/economics/GreenwaySumEcon.html http://www.americantrails.org/resources/benefits/BenefitsGrnwy.html http://www.enhancements.org/misc/TEGuide2002.pdf http://www.maine.gov/mdot/opt/pdf/biketourismexecsumm.pdf http://www.smart-transportation.com/themes.html