4/28/2012 Plantings for Earth Day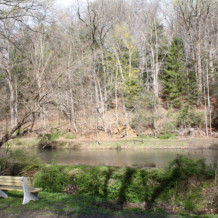 Our next volunteer day will be exciting- we were approved for a Delaware County Conservation District Mini-Grant for streamside buffer plantings in Glen Providence Park!  This park bench is at the site of the plantings near the pond- in fact the bench was part of the design, and was provided by County Parks & Recreation.
Streamside Buffer Plantings for Earth Day!
Saturday, April 28
10:00am-2:00pm
Main entrance on State Street in Media
Lunch provided for registered volunteers
More volunteer info below!
DATE CHANGE: The forecast was for wind and lots of rain on our originally scheduled date of Earth Day on Sunday, April 22- so we rescheduled our planting to Saturday, April 28.
The Friends of Glen Providence Park will plant native trees, shrubs, ferns, grasses and perennials, with the primary objective of streambank stabilization in an area of serious erosion.  This project will also create a riparian buffer, improve wildlife habitat, and beautify the park!
We thank Delaware County's Parks & Recreation, Environmental Planning, and Conservation District for their guidance in selecting and planning this project, Parks & Recreation for surprising us with the early delivery of the bench, and of course the Conservation District for their Mini-Grant!
We are grateful for the kindness of the Reformation Lutheran Church.  In a remarkable display of generosity, after Pastor Larry Smoose saw our presentation at Media Rotary about the nature and history of this lovely park, his church voted to donate the matching funds for our Mini-Grant!
We had invaluable guidance and assistance from garden coach Marcia Tate, Media Providence Friends School, and Redbud Native Plant Nursery.
Volunteering details:
We will update this description as we identify other relevant details for volunteers.
Estimated time: 10:00am-2:00pm
Lunch and drinks will be provided for registered volunteers
Activities will include:
– digging holes for 6 trees and 10 shrubs, and if time allows, 24 perennials
– spreading woodchips
– installing deer protection around trees and shrubs
– water bucket line from Broomall's Run (great for kids!)
– sitting back and admiring the new plants!
Items that would be helpful to bring, if you have them:
– gloves
– shovels and spades
– pickaxe
– rake
– wheelbarrow
To help us plan our time effectively, and to plan for refreshments, we ask that you rsvp for this event at FriendsoftheGlenATgmail.com– please let us know the number of volunteers in your party, and what hours you can be there.
Thank you, we hope to see you on Earth Day!
To add this event to your favorite calendar program (iCal, Outlook, Google, etc.), view the event listing on our calendar.