Media Borough Council vote on the 3rd Street Bridge/Dam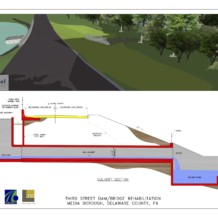 As we reported on our Facebook page on May 17: We are disappointed to report that in a 5-2 vote, Media Borough Council voted to replace the 3rd Street Dam and create an automobile road. We appreciate that this is a complicated project with a complicated history. But a lot of new information and new options have arisen since the first public meeting on this project last August, and this was an opportunity to make the outcome something much better. We will continue to look at ways to positively impact the outcome of the 3rd Street project, and of course continue all of our other work to preserve and enhance Glen Providence Park.
For the most up-to-date information, follow us on Facebook! And if you don't want to join Facebook, you can still view our Facebook page.