7/26/2012 Envision the Greenway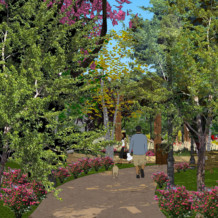 You are invited to participate in a special meeting of the Friends of Glen Providence Park Third Street Greenway/Dam Committee:
Thursday, July 26th
7:00 p.m.
Media Fellowship House
302 S. Jackson St.
The purpose of the meeting will be to collectively develop a proposal for the design and use of the Third Street project to present to Media Borough Council in light of its recent decision to proceed with replacing the dam.
A design for the park and park users
As you know, FrOG has advocated for removing the dam and restoring Broomall's Run stream, and we continue to assert that this would be the most environmentally responsible course of action. However, given Council's 5-2 vote on May 17th in favor of dam replacement, FrOG is also advocating for a "roadway" design and use plan that is most favorable to the park and to park users. All along, we have promoted the idea of a greenway that could serve as an attractive gateway to Media while prioritizing the needs of pedestrians and bicyclists while allowing for passage of emergency vehicles.
Bring your ideas
Join us as we brainstorm ideas for what a new Third Street dam/bridge could look like. We will have the services of an advanced landscape architecture student who will be translating our ideas into visual images so that Borough Council and the community at large can imagine the greenway and rally behind it.
Council has already made some decisions that lean in favor of FrOG's positions on the project, and it is not too late the further influence the outcome! Bring your creativity and any photographs of similar projects that you think could inspire ideas. While the FrOG Steering Committee will have final approval on FrOG's design proposal, we would like to have enthusiastic participation from many FrOG supporters in crafting the best proposal possible.
For background information on the project, including FrOG's advocacy work, technical issues having to do with dam design as well as the political history of the Third Street project, please visit the Bridge/Dam pages of the website, as well as the Dam/Bridge category on the sidebar.