8/4/2012 Nature Walk with Tom Reeves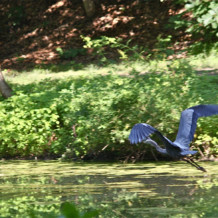 As anyone who has been on a bird or nature walk with naturalist Tom Reeves knows, he is a wealth of interesting information about native plants and wildlife (especially birds!).  He has been a respected and incredibly generous volunteer and nature guide for decades, including 32 years with John Heinz Wildlife Refuge, 20 years with Tyler Arboretum, and over 12 years with CRC Watersheds Association!  And now we are fortunate to have  him lead a walk for us…
Nature Walk with Tom Reeves
Saturday, August 4
8:30-10:00am
Main entrance, Glen Providence Park
And just where did Tom get his start as a naturalist?  In Glen Providence Park!  When Tom attended the Highland Avenue School in Lansdowne, his fourth grade teacher Miss Drayton had bird pictures displayed around her classroom, and taught her class about birds.  When it was time to go for a bird walk, the class took a Red Arrow bus to… Glen Providence Park!  
They did not use binoculars, but Tom still remembers seeing his first American Goldfinch that day, and watching its undulating flight- he says that is the moment he became a birder!  They saw 15 to 20 bird species on that bird walk, including Northern Cardinal and American Robin.  It was almost a whole day field trip, and included a picnic lunch in the park.  It seems fitting that Glen Providence Park played a role in inspiring Tom's life-long interest in birds and nature, as George and Eleanor Butler donated the park to be a Bird Sanctuary and Arboretum.
Join us as we welcome Tom back to the park where it all started!
Bring binoculars if you have them, hiking poles if you use them, a camera if you'd like, and your curiosity!
To add this event to your favorite calendar program (iCal, Outlook, Google, etc.), view the event listing on our calendar.