An Anniversary Picnic!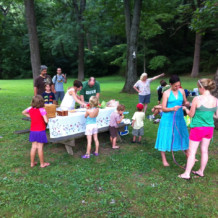 It was yet another fun event in Glen Providence Park on Saturday- with friends, conversation, brook stomping,  jumping rope(!), and of course food!  We developed a new appreciation for the stately White Oak tree on the Sledding Hill– its deep shade provided natural air conditioning for the surrounding picnic tables.   It was lovely and relaxing- we can see why Glen Providence Park has been a popular picnic spot for decades!
There was a wide age range, from 2 year olds to an 80 year old who told of a childhood sledding injury in the park!  The kids were irresistibly drawn to the pond and stream, but they returned for refreshing water ice, popsicles, and delicious watermelon from the Media Farmers Market.  We also had peach pie made from Farmers Market peaches, but we didn't have a pie-eating contest… this year.
Several people perused our album of historical photographs and articles about the park, leading to talk of local history, including of the Scroggie Estate.  We discussed possible volunteer projects, and admired the work of Delaware County Parks & Recreation- they are reinstalling electricity to the stage, and they keep the Sledding Hill so nicely mowed.
The young, and young at heart, took up jumping rope!  There were even attempts at double dutch- using 2 jump ropes simultaneously. Now that is a park activity that hadn't occurred to me!
What a nice way to celebrate our first anniversary– thank you to the new and old Friends of the park who attended!