A Magical Afternoon Concert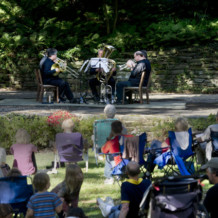 We could not have asked for a more lovely concert as our inaugural concert in Glen Providence Park on September 9!  After a stormy forecast for our scheduled Saturday concert, we were delighted in the idyllic fall weather on our Sunday afternoon rain date!  Dappled sunlight, a light breeze, and the shade of that lovely old White Oak were a perfect backdrop for over 150 people to enjoy the outstanding performance by Philadelphia Brass. The concert was even accompanied by the singing of  birds- it was magical!
Philadelphia Brass was exceptional, even providing entertaining and informative introductions to each piece, including the Elgar's ethereal Nimrod; excerpts from West Side Story; Mack the Knife; and Duke Ellington's It Don't Mean a Thing (If It Ain't Got that Swing).  You can view our Afternoon Concert program for all of the selections played, and listen to some pieces on the Philadelphia Brass website.
The stage itself was beautiful- the result of volunteering on 3 different days by Friends of Glen Providence Park, starting a year ago in September, and including the day of the concert!  It was wonderful to return concerts to the Glen Providence Park Stage, where so many summer concerts were held for decades.  And it seemed appropriate that Tom Hibberd was in the audience- it was under his grandfather Stanley T. Hibberd that Delaware County Parks & Recreation presented the first concert concert in the park on June 29, 1937!
A tremendous thank you to those who made the concert possible: Delaware County Park & Recreation; our generous sponsors Media Recreation Board and Blueberry Bog Vintage & Handmade; our donors; the terrific and tireless volunteers of Friends of Glen Providence Park, and of course Philadelphia Brass!
The concert must have been destined to be on Sunday afternoon- the Seurat painting we displayed on our flyers, posters and program is entitled A Sunday Afternoon on the Island of La Grand Jatte 1884.
We hope this was the first of many more concerts in the park!
Thank you to George Tate for taking these wonderful photographs… scroll through to see what the concert was like!