Another successful National Public Lands Day!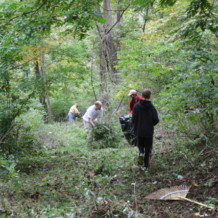 One year ago, Friends of Glen Providence Park chose National Public Lands Day (NPLD) for our first event: a volunteer day cleaning up the park and clearing the historical stage of vegetation and debris.  This year on September 29 we participated in NPLD again, doing trail maintenance and park clean-up.  It was our fifth public volunteer day in the past year, in addition to smaller work days we have conducted.
One of the great things about our volunteer events is the wonderful people we meet!  We always have fun working in the park, but we know our volunteers do too when they actually email us afterwards to say that they enjoyed it, as two people we met on NPLD did!  Maybe the delicious coffee from Seven Stones Cafe helped…
We worked on clearing invasive plants- we removed 12 (packed and heavy!) bags of invasives from the Shingle Mill Trail.  We got a helpful hand from Bill O'Donnell, a board member of Delaware County Parks & Recreation and long-time volunteer in the park, who arrived with a machete-like tool to make some serious progress against invasive Multi-flora rose! 
At the pond, we thinned the Duckweed & Watermeal that is covering the surface.  Groups of volunteers picked up 3 bags of trash from along the trails.  Another group of volunteers beautifully weeded our Earth Day Plantings from this April- really showing off the beautiful Winterberries!  The birds are going to love eating those berries in a few months.
It was rewarding, fulfilling, and fun.  Thank you so much to the (at least) 13 adults and 7 children who volunteered!
Scroll through our pictures below!