A Halloween Birthday for Glen Providence Park!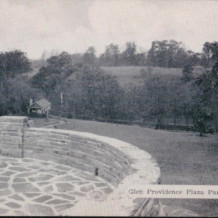 George and Eleanor Butler donated the land for Glen Providence Park in the summer of 1935, and its final approval was reported in the October 30, 1935 Chester Times.  The long-time park guard and caretaker James Stokes started work the next day on October 31, 1935- so Halloween is Glen Providence Park's birthday!
Perhaps it is fitting, as there seems to be a tradition of strange tales and haunts in the park.  In fact it was the local ghost and witch stories recounted in the early 1900's by Dr. Anna E. Broomall that led us to discover the rich pre-park history of Glen Providence Park, from the time it was called Scroggie Valley!  Dr. Broomall was the daughter of Judge John M. Broomall, who had owned the land that is now Glen Providence Park from about 1864 until his death in 1894.
You can get in the Halloween spirit reading Dr. Broomall's telling of the 1700's story of newlywed ghosts haunting the park, and the 1800's witch story of three sisters tormenting the local miller and their Witches' Ride in the park.  We annotated the stories with our historical research and maps, and even included music for the witch story.
We have heard wonderful accounts of the annual Haunted Woods that County Parks & Recreation held in 1980's, with Freddy Kruger, a chain saw man, Dracula, and even water creatures in the pond! It sounds like it was an impressive production, and pretty scary! This year at our Nature & Ghost Walk, we shared extra information about the historical ghost and witch stories and other appropriately odd tales about the park, and the darker side of its plants and wildlife– you can read some of those in our article "Ghosts & other park frights".
Halloween events are just some of the park's wonderful array of activities and events since it opened in 1935. That tradition of community events, and the elegance of the park's design and structures built by the Works Progress Administration, are why Glen Providence Park was determined eligible for the National Register of Historic Places!  What a marvelous history it has had…
Happy 77th Birthday, Glen Providence Park!
And, Happy Halloween!
The image is of a 1930's or 1940's postcard of Glen Providence Park, showing the park guard house half way down the sledding hill.