The 1.1 Acre Project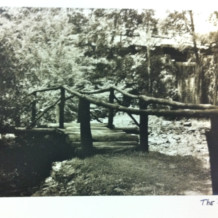 It's our 2013 project to document the plants and wildlife in Glen Providence Park!  We'll continue our photojournal of the whole park, but this year we'll focus our efforts on one acre of the park- the construction area for the 3rd Street Dam. 
We don't know when construction will start to replace the dam, but it may be as early as 2014.  Whenever it starts, according to the project engineers, 1.11 acres will become a construction area, with approximately .64 acres buried with earthfill.  So, in order to appreciate the 1.1 acre while it lasts, we will document it over the next year!
The perimeter:
Last year, we used the dam construction diagrams from the project engineers at Larson Design Group and Schnabel Engineering to identify the perimeter of the construction area.  We then registered 76 trees within that area on Philly Tree Map– some of our favorite of the 18 tree species we found there were Umbrella Magnolia, American Sycamore, American Witch Hazel, Sassafras, American Hornbeam and Black Tupelo.  The resulting tree map shows the perimeter of the 1.1 acre construction area.

History:
The acre has changed through the years, as you can see from early photographs.  There was once a rustic footbridge across Broomall's Run, where the path led through a fernery at the base of Broomall's Dam to a drinking spring on the Upper Providence side.  That spring is still there, but difficult to access- and it is right on the border of the construction area, at the base of an enormous Tuliptree.  We cleared part of the then-disused path leading to the spring at our second volunteer day in October 2011.  A footer from the footbridge is still there- but according to the engineers' diagrams, the new dam will cover it.


Our project:
We've been documenting the plants and wildlife in the park through our photojournal, Birding Big Year and Tree Mapping.  Now we'd like to learn more about the 1.1 acre- four of us will visit the park through the year, and post our photographs and observations.  We hope to document what species are within that acre, and identify those valuable plant species that could be transplanted and saved prior to construction.
We'll be focusing on the 1.1 acre, but it's a great way to closely observe nature and follow the seasons in the park.  On our visit on a bitterly cold February morning, we observed the Skunk Cabbage already emerging.  And the frozen waterfall and Broomall's Run have been lovely in the snow!
It's a serene part of the park- we welcome you to visit it!  It's an introduction to the 1.1 acre, and a long farewell.
– Amy, Marcia, Shannon & Stephanie


Here are a few photos so far showing the 1.1 acre- you can click on any one for a closer look.