A Delightful Classical Concert!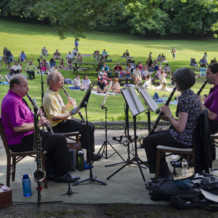 What an absolutely lovely start to our 2013 Summer Concert Series in Glen Providence Park! On June 22, the Springfield Clarinet Quartet delighted and engaged the more than 125 people of all ages who attended the concert. The light breeze and the shade of the elegant old White Oak kept us cool on the first full day of summer, while birds accompanied the musicians. It was idyllic!
The Springfield Clarinet Quartet was wonderful, skillfully performing works by artists including Bach, Gershwin, and Debussy, with an especially enchanting rendition of Satie's Gympnopedie. Dr. Christopher DiSanto gave excellent and informative introductions to each piece, and the Quartet even invited the kids up to the stage to learn about the instruments!
The stage itself was beautiful with plantings and lighting- the result of volunteering on three different days by Friends of Glen Providence Park, with the help of Brownie Troop #5248. It was wonderful to start our Summer Concert Series at the historical Glen Providence Park Stage, where so many summer concerts were held for decades- starting on June 29, 1937!
Many thanks to all who made this concert possible: Delaware County Parks & Recreation, Concert Series Sponsors Media Recreation Board and Media Rotary Foundation, Concert Sponsor Shere-E-Punjab Indian Restaurant, Brownie Troop #5248, our volunteers, the over 125 people who attended, JMW Entertainment Group for the flawless sound, our tireless Concert Chair Lisa Johnson, and of course Springfield Clarinet Quartet for their amazing musicianship.
We are looking forward to the rest of our 2013 Summer Concert Series– save the dates for The Obsoleets and Me3 on July 27, then Ken Delmar and the Cheers Big Band on September 14!
Thank you to George Tate and Amy Johnson for taking these wonderful photographs… scroll through to see what the concert was like!