7-27-2013 The Obsoleets & Me 3 in Concert!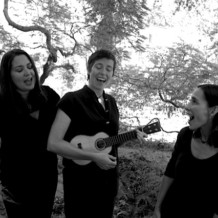 For the second concert in our 2013 Summer Concert Series, Friends of Glen Providence Park is delighted to present The Obsoleets and Me 3 for an afternoon of Eclectic American with Three Part Harmonies! These two talented groups perform with infectious joy and an evident love for music, making them so much fun to see!
Afternoon Concert in the Park
Saturday, July 27
4:30-6:00 pm
Glen Providence Park Stage, State Street, Media
Rain date: Sunday, July 28

The Obsoleets perform folk, blues, ballads and more with a wide variety of traditional acoustic instruments including tenor guitar, mandolin, ukulele, upright bass, banjo and accordion, and the intriguing Chinese erhu. From modern takes on arcane Americana to rootsy reworkings of contemporary songs, band members John Stovicek, Parris Bradley, Steven Patrick Smith, Bill Hayward, Alex Uskaraitis, Leon Barton, and Qin Qian add a distinctive touch to everything they do.
Me 3 is inspired by tight harmonies, loose tea and well-strung guitars and ukuleles. They sing music spanning the 20th century, reviving old folk and jazz standards, retrofitting pop of the 60s through 90s and mining unsung gems of the past and present. From the Boswell Sisters to Beyoncé, Holly Hoffmann, Shannon Davidson, and Monica Moran mix three-part harmonies with a dash of swing.
Bring a blanket or chair, and relax on the lawn by the historical concert stage to enjoy the artistry of these two exciting groups! After the concert, head into Media for dinner and shopping, just 2 blocks away on State Street.
Thank you:
– Concert Sponsor Seven Stones Cafe is one of the most inviting spots in town!  From great coffee (and artfully prepared lattes!) to hearty sandwiches, soups, pastries and more, Seven Stones has delicious offerings to enjoy over good conversation, a meeting, or a book. The art displays and regular live music  just add to its irresistibility. And the family-owned cafe is located just over 4 blocks from the entrance to the park!
– Concert Series Sponsor Media Recreation Board does so much for Media- including presenting family dances, movies in Barrall Field, the Annual July 4th Celebration, and the Great Media Garage Sale Days.
– Concert Series Sponsor Media Rotary Foundation has been supporting the community by contributing to worthwhile organizations, groups and projects since 1983.
– Delaware County Parks & Recreation has cared for Glen Providence Park since its creation in 1935, and their support makes these concerts possible.
For logistics, and information on our June and September concerts, please see our 2013 Summer Concert Series announcement!