April 1.1 Acre Project: Historical Springs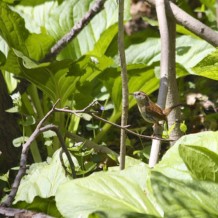 As we visited the park's 1.1 Acre construction area for Broomall's Dam throughout the month of April, it was exciting to watch how quickly the woods and wetlands transformed! You can see in the first 1.1 Acre vista photo below that the trees were almost bare on April 3, and Skunk Cabbage leaves were just emerging in the wetlands. By the end of the month, the acre was lush and green, and the views across the valley were blocked until Fall.
Before the rapidly emerging foliage and Skunk Cabbage obscured the way, we traced the spring-fed streams to their source by the historical drinking spring. When Media was founded in 1850, and through the 1870's, the springs feeding Broomall's Run provided the drinking water for the Borough!
At least one of those springs continued to be a drinking source into the 1960's- in Glen Providence Park along the border of the 1.1 Acre! This was an official supply of drinking water for the park, as described in Chester Times articles and marked on this 1945 map. The 1941 Nature Guide to Glen Providence Park also describes the drinking spring and its surrounding wildflowers and fernery. While the area around the spring has largely overgrown, wildflowers and ferns remain!
Our photos below show the remnants of a masonry wall by the spring, and what appear to be two spring sources that merge into one stream. One of those sources is within the 1.1 Acre, and the other is just outside of the 1.1 Acre. It is sad that these historical springs will be destroyed or impacted by the Broomall's Dam construction area.
Throughout the 1.1 Acre, there was plenty to appreciate- the morning sunlight often gives the wetlands a magical air. There are robust colonies of native May-apple and Trout Lily, with patches of False Solomon's Seal, Wild Ginger, and the dreaded Poison Ivy– which is actually native and beneficial to birds! There are two Umbrella Magnolias, which we did not catch in full bloom. Wildlife visitors that we managed to photograph were a White-tailed Deer and Carolina Wren.
For an explanation of the 1.1 Acre and its boundary, see our introduction to the 1.1 Acre Project.
You can scroll through our chronological pictures below, and you can also view them with descriptions on our flickr page! You can see more pictures in our facebook albums and in our photojournal.
---
December 2020 update: We will be updating our website to enable our Flickr galleries to again display here. Until then, you can view our April 1.1 Acre photos on Flickr.
---
[AFG_gallery id='7′]