1.1 Acre Project – Summer 2013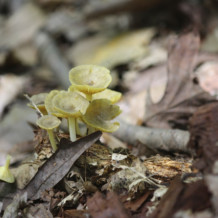 We continued to visit Glen Providence Park's 1.1 Acre construction area for Broomall's Dam during the hot and unusually(!) wet summer- it broke the 2011 record for Philadelphia's rainiest summer on record! All that rain made the plants in the park particularly lush, as you can see in the 1.1 Acre Vista photos below.
The native plants transformed, as many started producing berries. And we will have to track down some more experts to help us identify the park's interesting array of insects and fungi! From fallen Tuliptree flowers and Wild Ginger to golden spiders and iridescent blue damselflies, there was always something to discover in the 1.1 Acre.
We were initially relieved to see the PA Department of Environmental Protection lower the water level at Broomall's Lake, reducing the risk to the 1.1 Acre if Broomall's Lake Dam (immediately upstream of the park) were to suddenly fail. However, by mid-July, the lake level had again risen to full capacity.
For an explanation of the 1.1 Acre and its boundary, see our introduction to the 1.1 Acre Project.
You can scroll through our chronological pictures below, and you can also view them on our flickr page! You can see more pictures of Glen Providence Park in our facebook albums and in our photojournal.
---
December 2020 update: We will be updating our website to enable our Flickr galleries to again display here. Until then, you can view our Summer 1.1 Acre photos on Flickr.
---
[AFG_gallery id='10']