9-14-2013 Ken Delmar & the Cheers Big Band!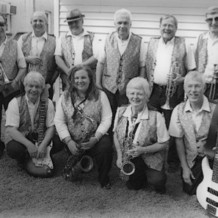 For the last of our 2013 Summer Concert Series, Friends of Glen Providence Park is delighted to present a free Big Band Swing Concert in the park! Ken Delmar and the Cheers Big Band will take you on a musical journey spanning four decades from the 1940's through the 1980's. Relax on the lawn by the stage and enjoy the sounds of Glen Miller, Tommy Dorsey, Frank Sinatra, Neil Diamond, Elton John and more!
Afternoon Concert in the Park
Saturday, September 14
4:30-6:00 pm
Glen Providence Park Stage, State Street, Media
Rain date: Sunday, September 15
It seems appropriate to have Ken Delmar & the Cheers Big Band perform in the park- its previous incarnation The Media Brassworks played as a brass quartet in Glen Providence Park at Media Borough's 150th anniversary on June 17, 2000! As far as we can tell, that was a very rare performance in the park since the 1970's, and the last performance before we presented Philadelphia Brass in September 2012! And Ken Delmar is a member of Media Rotary, one of our Concert Series Sponsors.
Bring a blanket or chair, and relax on the lawn by the historical concert stage to enjoy Big Band music! After the concert, head into Media for dinner, shopping, and the arts at Media Arts Council's 2nd Saturday Arts Stroll, just 2 blocks away on State Street!
Thank you:
– Concert Sponsor Diego's Cantina & Tequila Bar makes traditional peasant style food from the Puebla region of Mexico, on a wood burning grill! The atmosphere and decor complete the experience, not to mention the bar with over 60(!) tequilas. And Diego's is located just over 2 blocks from the entrance to the park!
– Concert Series Sponsor Media Recreation Board does so much for Media- including presenting family dances, movies in Barrall Field, the Annual July 4th Celebration, and the Great Media Garage Sale Days.
– Concert Series Sponsor Media Rotary Foundation has been supporting the community by contributing to worthwhile organizations, groups and projects since 1983.
– Delaware County Parks & Recreation has cared for Glen Providence Park since its creation in 1935, and their support makes these concerts possible.
For logistics, and information on our June and July concerts this year, please see our 2013 Summer Concert Series announcement!