A Fantastic July Concert!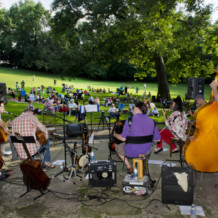 Looking back at our Summer Concert Series in Glen Providence Park, we are reminiscing about July's fantastic concert with Me3 and The Obsoleets! It was a beautiful Saturday afternoon on July 27, and we had our largest turnout yet- with over 175 people of all ages. It was fabulous and fun, with children playing in the background, while the talented double-header Me 3 and The Obsoleets re-energized the concert stage with their wonderful musicianship and charisma.
It was an exciting and eclectic concert, which was especially magical when Me3 and the Obsoleets played together! The three-part harmonies of Me 3 were upbeat and whimsical interpretations of both pop and lesser-known songs, with a notable rendition of the 1970's classic, I Will Survive. The Obsoleets skillfully and exuberantly performed American roots and blues on an impressive array of instruments, including the intriguing Chinese erhu, ukelele, accordion and double bass!
Many thanks to all who made this concert possible: Delaware County Parks & Recreation, Concert Series Sponsors Media Recreation Board and Media Rotary Foundation, Concert Sponsor Seven Stones Cafe, Brownie Troop #5248, our volunteers, Marcia Tate for her artful decoration of the stage, the over 175 people who attended, our tireless Concert Chair Lisa Johnson, and of course the talented musicians of Me 3 and The Obsoleets!
We would like to give special thanks to Me 3 for generously donating their performance.
Thank you to George Tate for taking these wonderful photographs- scroll through to see what the concert was like…