A Wonderful Big Band Concert!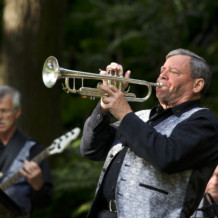 We finished off our Summer Concert Series in Glen Providence Park on September 14 with a wonderful and fun swing concert with Ken Delmar & the Cheers Big Band! Over 130 people enjoyed the concert on a cool fall-like afternoon, along with a wedding party having photos taken on the sledding hill, and people practicing casting for fly fishing on the hillside! Kids rolled down the hill in the background, and there was dancing in the audience… not to mention some impressive dance moves on stage- you have to see the pictures to believe it!
Ken Delmar & the Cheers Big Band were marvelous performing 1939 hits Glenn Miller's Moonlight Serenade and Ary Barroso's Brazil, and moved through the decades with classics including Fly Me to the Moon and Sweet Caroline. It was exciting to return Big Band concerts to the park, as they had been so popular for decades in Glen Providence Park, from 1937 to the 1970's. After the concert, some concert-goers continued into town for M.A.C.'s 2nd Saturday Arts Stroll!
Many thanks to all who made this concert possible: Delaware County Parks & Recreation, Concert Series Sponsors Media Recreation Board and Media Rotary Foundation, Concert Sponsor Diego's Cantina & Tequila Bar, Brownie Troop #5248, our volunteers, Marcia Tate for her artful decoration of the stage, the over 130 people who attended, our tireless Concert Chair Lisa Johnson, and of course the talented Ken Delmar and the Cheers Big Band!
Thank you to George Tate for taking these fabulous photographs- you can really get a feel for the concert by scrolling through!