2-22-2014 Winter Nature & History Walk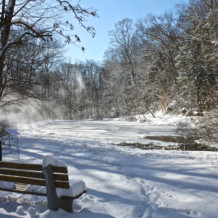 Join us for a winter walk in Glen Providence Park! Learn about winter characteristics of the park's native shrubs and plants, and look for early signs of Spring. Along the way, we'll share historical photos, maps and descriptions, and we always keep an eye out for wildlife! We'll meet at the wooded entrance at 3rd & West Streets, pointing out the boundary of the planned 1.1 acre construction area for a new dam at 3rd Street. Enjoy this lovely part of the park while you can!
Winter Nature & History Walk
Saturday, February 22
10:00am-12:00 noon
Rain date Sunday, February 23
* Entrance at 3rd & West Streets, Media *

The walk will be led by me (the park history buff) and native plants expert Marcia Tate.
Logistics:
Estimated distance: 1-1.5 miles
Estimated time: 2 hours
Free!
Be prepared for stream crossings, steep hills, and uneven (possibly icy or muddy) terrain: wear sturdy walking shoes, bring a hiking pole if you use one, and you never know when you'll want binoculars!
Please note the starting location- meet us at 3rd & West!
If the weather is iffy, we'll post on our website and facebook by 9:00am on Saturday morning whether we will use the rain date.
To add this event to your favorite calendar program (iCal, Outlook, Google, etc.), view the event listing on our calendar.