6-21-2014 Perseverance Jazz Band!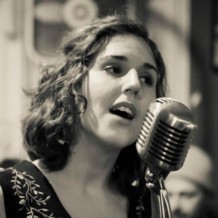 For the first concert in our 2014 Summer Concert Series, Friends of Glen Providence Park is delighted to present the Perseverance Jazz Band for an afternoon of Swing and Traditional Jazz! It will be an exciting start to our concert series, with the vibrant sound displayed in their first full-length album, Hard Times Come Again No More.
Afternoon Concert in the Park
Saturday, June 21
4:30-6:00 pm
Glen Providence Park Stage, State Street, Media
Rain date: Sunday, June 22
WEATHER UPDATE: The forecast has improved in our favor, so we will have our concert Saturday as planned – no rain date!
Perseverance Jazz Band has become a local favorite for private parties and weddings playing small group Swing and Trad Jazz music, featuring the vocals of Cecilia Ferneborg. The band has toured the Northeast, South and Midwest playing for swing dance organizations, and is constantly striving to make its own place in the great tradition of American music.
Bring a blanket or chair, and relax on the lawn by the stage to enjoy a late afternoon concert! After the concert, head into Media for dinner and shopping, just 2 blocks away on State Street.
Thank you:
– Concert Sponsor Diego's Cantina & Tequila Bar makes traditional peasant style food from the Puebla region of Mexico, on a wood burning grill! The atmosphere and decor complete the experience, not to mention the bar with over 60(!) tequilas. And Diego's is located just over 2 blocks from the entrance to the park!
– Concert Series Sponsor Media Recreation Board does so much for Media- including presenting family dances, movies in Barrall Field, the Annual July 4th Celebration, and the Great Media Garage Sale Days.
– Concert Series Sponsor Media Rotary Foundation has been supporting the community by contributing to worthwhile organizations, groups and projects since 1983.
– Delaware County Parks & Recreation has cared for Glen Providence Park since its creation in 1935, and their support makes these concerts possible.
For logistics and information on our August and September concerts, please see our 2014 Summer Concert Series announcement!