Perseverance Jazz Band Recap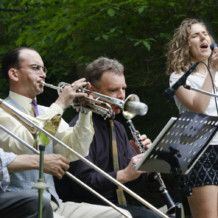 It ended up being a terrific day for the first concert of the 2014 summer series on Saturday, June 21 — despite an early threat of rain, the sun came out and a generous crowd showed for Philadelphia's Perseverance Jazz Band.
As a fan of early jazz, I get really excited when young musicians put their stamp on traditional jazz. Jazz is a form that's always open to new perspectives, and if you've got some swing in your bones, it's just good fun whether you know the tunes or not.
Perseverance has both the chops and the soul to make this style of jazz really swing. They took on old favorites such as Fats Waller's "Crazy 'Bout My Baby" in such a way that respected that 30's style, but with vocalist Cecilia Ferneborg working her way around the melody in refreshing ways. I was impressed that they took on Louis Armstrong's signature closing number, "When It's Sleepytime Down South," and their cornet player Drew Nugent showed not a hint of hesitation in blasting out a beautiful solo. On other tunes he pulled out all sorts of mutes to add texture and humor that would make Duke Ellington's horn section smile.
All the musicians brought their personality to the music in wonderful ways with the New Orleans style virtuoso clarinet of Paul Butler, the subtle and soulful trombone of Peter Reichlin and the low key golden banjo player Stephen DiBonaventura, who hung back vamping chords throughout most of the concert, and then burst out in an amazing solo turn on an instrumental number. Drummer Ricardo Lagomasino held the beat and broke it up, keeping it swinging all the time. All these musicians play in various bands in Philly — be sure to keep an eye out for them!
Founder and bassist Jonathan Davenport led the band through some great rhythmic breakdowns and spur of the moment experimentations. And did I mention the vocalist, Cecilia Ferneborg? I did, but she certainly deserves mention again. Even with a simple sound system, her voice held its own beautifully with the band, and they shared a wonderful dialogue.
Thanks again to the concert sponsors, Diego's Cantina, Media Rotary Foundation and Media Recreation Board, and to all the volunteers and donors who made the concert possible.
Perseverance Jazz Band has their debut CD available for sale, "Hard Times Come Again No More," and they play regularly around Philadelphia.
Photographs by George Tate