9-7-2014 ViVaCe Strings!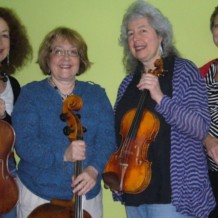 For the third and last concert in our 2014 Summer Concert Series, Friends of Glen Providence Park is delighted to present ViVaCe Strings for an afternoon of Classical music! ViVaCe Strings, a quartet of professional conservatory trained musicians, has been providing music for elegant events in the Philadelphia region for over 20 years, including at the Kimmel Center and the Philadelphia Museum of Art.
Afternoon Concert in the Park
Sunday, September 7
4:30-6:00 pm
Glen Providence Park Stage, State Street, Media
RAIN DATE: With forecasted thunderstorms Saturday afternoon, we will use our rain date of Sunday, September 7 at 4:30 for the concert. The forecast for Sunday is beautiful – with temperatures in the upper 70's!
Bring a blanket or chair, and relax on the lawn by the stage to enjoy a late afternoon concert! After the concert, head into Media for dinner and shopping, just 2 blocks away on State Street. As with all of our events, this concert is free and open to the public.
Thank you:
– Concert Sponsor Shere-e-Punjab Indian Restaurant earned its popularity with delicious dishes made from freshly prepared spices. You can experience this international cuisine at a daily lunch buffet, with take-out, or at a leisurely dinner- and the family-owned restaurant is located just 2 blocks from the entrance to the park!
– Concert Series Sponsor Media Recreation Board does so much for Media- including presenting family dances, movies in Barrall Field, the Annual July 4th Celebration, and the Great Media Garage Sale Days.
– Concert Series Sponsor Media Rotary Foundation has been supporting the community by contributing to worthwhile organizations, groups and projects since 1983.
– Delaware County Parks & Recreation has cared for Glen Providence Park since its creation in 1935, and their support makes these concerts possible.
RAIN DATE: If the weather is questionable, we will post on Facebook and on our website by noon Saturday whether we will use our Sunday rain date.
For logistics and information on our June and August concerts, please see our 2014 Summer Concert Series announcement!