Concert Recap: Sonoma Sound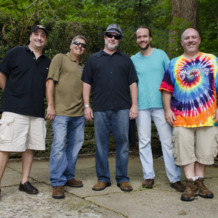 The second of three summer concerts at Glen Providence Park, scheduled Saturday August 2nd with Sonoma Sound, was played under cloudy skies; where the band laid down a sweet, funky, reggae groove that made the crowd feel sunny and happy. They played most of the cuts from their latest CD, "Skin and Bone", many consisting of uplifting, inspirational lyrics sung over the band's signature sound. (You can get a listen at their website "SonomaSound.com" if you like.)
The band members are all local musicians and displayed many talents with their playing bursting from the two guitars, keyboard, bass and drums in the band. The crowd of 150 went home happy; and who would not after listening to this head swinging music in a great park on the best of afternoons?
– Paul
A special thank you is in order to Delaware County Parks & Recreation. On July 8, a huge 110-year-old White Ash tree fell in a storm, damaging the 1937 concert stage. Delaware County Parks & Recreation removed the Ash tree and limbs of other damaged trees, and repaired the masonry stage in time for our concert! You can see a photo below of the tree fallen on the stage.
Many thanks to all who made this concert possible: Delaware County Parks & Recreation, Concert Series Sponsors Media Recreation Board and Media Rotary Foundation, Concert Sponsor Seven Stones Cafe, our volunteers, Marcia Tate for her artful decoration of the stage, the 150 people who attended, our tireless Concert Chair Lisa Johnson, and of course the talented musicians of Sonoma Sound!
– Stephanie
Guest blogger Paul Schlenker is on the Concert Committee of Friends of Glen Providence Park.
You can scroll through the concert photos by George Tate…