A Summer Herpetology Walk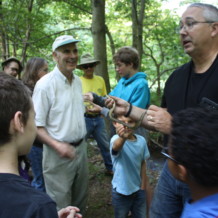 What a lovely, unseasonably cool summer morning for our fun Herpetology Walk in Glen Providence Park on August 9! Kyle Loucks led the more than 20 adults and children who attended our early (7:30am!) morning walk. We saw Two-lined Salamanders, Dusky Salamanders, Pickerel Frogs, a baby Wood Frog, American Toads, and a Northern Water Snake. We were able to safely pass the amphibians around for a closer look, before gently returning them to their habitat, in a clean plastic container – any lotion, soap, and even oil on our skin can harm them. It seemed to be too cool for the numerous turtles that normally bask at the pond – we didn't see any!
It was a privilege to have Kyle lead us – he is the South East Regional Coordinator for the Pennsylvania Amphibian and Reptile Survey (PARS), and the one who first told us about it! Launched in 2013, PARS is a joint venture between the PA Fish & Boat Commission and the Mid-Atlantic Center for Herpetology and Conservation, to provide them with valuable data for study and conservation of amphibians and reptiles (*"herps"). PARS is our 2014 Citizen Science project – you can see our results so far and a species list and photo gallery!
A tremendous thank you to Kyle Loucks for leading us, and for his work for PARS!
*Herpetology is the study of amphibians and reptiles, and herps is slang for amphibians and reptiles.
Check out the photos of our Herpetology Walk below!