Diatoms in Scroggie Run!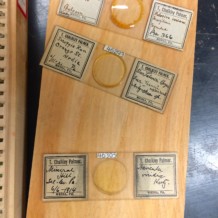 In another intriguing piece of Glen Providence Park history, the Academy of Natural Sciences of Philadelphia has a collection of early 1900's microscope slides – of diatom samples collected from Scroggie Run by T. Chalkley Palmer! Diatoms are single-celled algae (with silica shells!) that are useful in environmental monitoring, potentially in nanotechnology and forensics, and in art(!) – and the wondrously-useful diatomaceous earth is diatoms' fossilized remains.

T. Chalkley Palmer
T. Chalkley Palmer was the President of the Delaware County Institute of Science (DCIS) 1894-1934, and the President of the Academy of Natural Sciences of Philadelphia (ANSP) 1926-1928. According to an 1889 essay by Palmer, he grew up exploring "Scroggie Valley," which is now Glen Providence Park. He wrote at length about the valley's geology, plants, and wildlife. In my park research, I found several listings for Palmer's diatom slides from Scroggie Run (now called Broomall's Run) on the Diatom Herbarium Database of ANSP!
A chemist by vocation, it turns out that Palmer spent a great deal of his free time studying diatoms. He was fascinated by their locomotion, and he wrote eight papers on diatoms for the "Proceedings of the Delaware County Institute of Science" from 1905 to 1911, and further papers for ANSP. Palmer discovered at least one new diatom species, Pinnularia socialis, near Media – and another species, Surirella palmeri, was named after him!

Diatom Herbarium at ANSP
In June, I visited the ANSP Diatom Herbarium (one of the two largest in the world!) with Dr. Walt Cressler – an ANSP research associate, West Chester University professor, and fellow researcher of T. Chalkley Palmer (check out his website of local watersheds history!). We brought records about Palmer to add to ANSP's collection, including Palmer's Scroggie Valley essay and DCIS articles.
We met with Diatom Herbarium Assistant Curator Dr. Marina Potapova and Collections Manager Jennifer Beals, who were quite generous with their time! Marina showed us that Media is a frequent collection site in the 1905 book, Diatomaceae of Philadelphia & Vicinity. This may well be due to DCIS drawing scientists to Media: a 1928 Chester Times article describing the land that is now the Glen Providence Park indicates, "Naturalists, from all over the country, attending the Delaware County Institute of Science, make a study of it." It is interesting to note that Dr. Potapova sometimes goes to Glen Providence Park when she needs pond algae for the classes she teaches at Drexel University!

100-year-old slides!
Our search through the historical files for T. Chalkley Palmer's slides yielded those from Scroggie Run, in addition to slides from Broomall's Dam and nearby Mineral Hill! It was odd  to view these antique slides on a modern, high-end digital microscope, which displayed on a computer screen. Dr. Potapova was intrigued and impressed with Palmer's slides – she said that it was unusual to see slides that are monoculture (one species), which is quite difficult to achieve, and further that the slides have no sediment.
We found a slide of the species Palmer discovered, Pinnularia socialis (formerly Navicula socialis), so named because it is found in groups of four. He discovered it in 1905 in "swampy pools near Media, Pa.," and again in 1909 in swampy pools several miles away – both at Dutton's Ravine in Middletown and Palmer's Swamp (which we believe is Scott Park in Upper Providence). In his 1910 paper for ANSP, Palmer said of Navicula socialis: "Near Media it is frequent in boggy places during the summer, and until the pools dry out, though seldom in much abundance." He may have also found them in the wetlands of Scroggie Valley!
What a thrill it was to see and hold slides made by T. Chalkley Palmer, with samples taken from Scroggie Run in the early 1900's! It was an exciting afternoon exploring natural history, and more – we learned about amazing microscopic "diatom art" that dates to Victorian times, and diatom sculpture(!) in Portland, Oregon.  
We would like to continue our research of Palmer's diatom studies at DCIS. You can see photos from our ANSP visit below – click on any for a closer look.
T. Chalkley Palmer was born in Media, Pennsylvania on October 23, 1860 – 154 years ago today. Happy Birthday, T. Chalkley Palmer!
A warm thank you to:
Dr. Marina Potapova, ANSP Diatom Herbarium Assistant Curator and Jennifer Beals, Collections Manager, for their enthusiasm and generosity with their time. We had a wonderful visit!
Dr. Don F. Charles, Senior Scientist and Section Leader, ANSP Phycology Section, and Drexel University professor, for making the connection for us with Dr. Potapova after meeting Walt and me at the Ruth Patrick Memorial Symposium at ANSP in April. Walt and I attended the symposium with the CRC Watersheds Association.
Dr. Walt Cressler, Paleobotanist, Botany Research Associate at ANSP, Professor at West Chester University, and local historian,  for joining me in this research adventure.
Sources:
"A New Diatom," T. Chalkley Palmer, Proceedings of the Academy of Natural Sciences of Philadelphia, May 1910
"Diatom" Wikipedia entry, retrieved 6-4-2014
Diatomaceae of Philadelphia, Charles S. Boyer, Philadelphia, 1916
Diatom Herbarium Database of Academy of Natural Science of Philadelphia
"Embryo Watkins Glen in Media Woodland," Chester Times, July 14, 1928
Proceedings of the Delaware County Institute of Science, Volumes I-VI, October 1905-July 1911
"Scroggie," T. Chalkley Palmer, The Student, Philadelphia, December 1889-February 1890