Concert Recap: ViVaCe Strings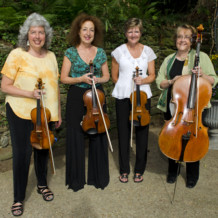 The sound of music was heard deep in the narrow valley of Glen Providence Park on a warm, sunny afternoon at the tail end of a beautiful summer. Despite a rescheduling to the Sunday, September 7 rain date prompted by stormy weather the previous day, an audience of nearly one hundred adults and children, seated on the bucolic lawn in front of the stage, savored an eloquent and diverse classical music program. ViVaCe Strings, one of the most requested string chamber ensembles in the region, contributed a touch of elegance to this woodland setting.
ViVaCe Strings, a group of professional conservatory trained musicians, have provided music in the Philadelphia region for more than twenty years. Kathleen Hastings and Barbara Jaffe on violins (Vi), Louise Jaffe on viola (Va) and Cheryl Everill on cello (Ce), have played leading positions in the area's musical groups – Delaware Symphony, Philly Pops, Symphony in C and OperaDelaware just to name a few.
Their repertoire of classical song and dance selections included compositions by Monti, Elgar, Gottschalk, Borodin, McLean and the beautiful, melodic St. Paul Suite by Gustavus Theodore Holst. This grand finale performance concluded the free 2014 Summer Concert Series in the Park.
Special thanks to our generous concert sponsors, Media Recreation Board, Media Rotary Foundation, Shere-e-Punjab Indian Restaurant and to Delaware County Parks and Recreation for making this concert possible.
You can scroll through the concert photos by George Tate…