1939 Photos of Glen Providence Park!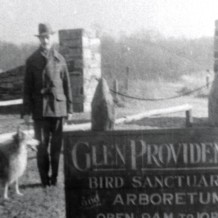 We were delighted last year when local resident William Vanleer shared with us a series of 12 photographs by his grandfather, GJ Ulshafer, taken in Glen Providence Park around 1939! There are wonderful written descriptions of the park from its early years in the Chester Times and elsewhere, but early photos are harder to find.
These 1939 photographs are enchanting, showing entrance signs for "Glen Providence Bird Sanctuary & Arboretum," rustic footbridges, and even the park's original drinking spring by the base of Broomall's Dam, as described in the 1941 Nature Guide to Glen Providence Park. That guide was written by long-time park supervisor James R. Stokes, Jr., who may be the park guard in one of the photos! The park visitors' attire alone evokes a bygone era.
This collection of images is a treasure, and we are very grateful to William Vanleer for sharing his grandfather's photographs with us.
Click on any photo for a closer look! There is further information about some of the photographs in our History album on Facebook.