6-6-2015 Blackbird Society Orchestra!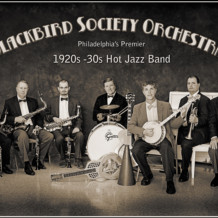 To kick off our 2015 Summer Concert Series, Friends of Glen Providence Park is delighted to present Blackbird Society Orchestra for an afternoon of 1920's Hot Jazz! Travel back in time to the "Roaring 20's" of flappers, gangsters, and Model A's with the Blackbird Society Orchestra. Hear the sounds of the "music people forgot about" including Eddie Lang, Bix Beiderbecke, Armstrong, Ellington, and many more!
Afternoon Concert in the Park
Saturday, June 6
4:30-6:00 pm
Glen Providence Park Stage, State Street, Media
Rain date: Sunday, June 7
WEATHER UPDATE: The concert is on for its scheduled day of Saturday, June 6. There are possible showers in the early afternoon, but the skies should be clear for our 4:30 concert.
Bring a blanket or chair, and relax on the lawn by the stage to enjoy a late afternoon concert! After the concert, head into Media for dinner and shopping, just 2 blocks away on State Street. As with all of our events, this concert is free and open to the public.
Thank you:
If the weather is questionable, we will post on Facebook and on our website by noon Saturday whether we will use our Sunday rain date.
For logistics, and for information on our upcoming July, August, and September concerts, please see our 2015 Summer Concert Series announcement!