Concert Recap: Blackbird Society Orchestra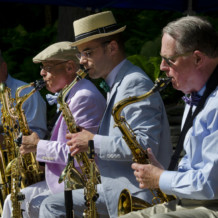 It was a fantastic concert to kick off our Summer Concert Series in Glen Providence Park on Saturday, June 6 with 1920's Hot Jazz performed by Blackbird Society Orchestra! The authentic arrangements and ebullient performance by the 9-piece, snazzily-dressed band captivated the audience of around 200, as children danced and played in the background. It was a delightful afternoon enjoying music that seemed perfectly suited to the 1937 WPA stage.
Blackbird Society Orchestra uses original vintage arrangements to accurately and skillfully re-create classic jazz recordings such as Smile When the Raindrops Fall and Yes Sir, That's My Baby. They choose songs as fun to hear as their titles are compelling – The Terror, Sugar Foot Stomp, and Burnin' the Iceberg. If you google these songs, you are likely to find videos of the 78's being played on a Victrola – evoking the era when the park was founded.
The talented Blackbird Society Orchestra:
Richard Barnes – guitar, banjo, vocals
Joe Strenk – drums
Mike Hood – bass
Jeff Hart – sax/clarinet
Walt Blauvelt- sax/clarinet
Bill Dibiase – sax/clarinet
Rob Ford- trumpet
Tom Hoey – trumpet
Jim Gicking – trombone
We are grateful to Delaware County Parks & Recreation for working to resurface the 1937 WPA stage for the park's 80th anniversary. To make the stage usable for the concert, they installed a temporary surface for Blackbird Society Orchestra!
Many thanks to all who made this concert possible: Delaware County Parks & Recreation, Concert Series Sponsors Media Recreation Board and Media Rotary Foundation, Concert Sponsor Seven Stones Cafe, our volunteers, Marcia Tate for her artful decoration of the stage, the 200 people who attended, our tireless Concert Chair Lisa Johnson, and of course the talented Blackbird Society Orchestra!
Thank you to George Tate for taking these fabulous photographs – scroll through to see what it was like!
Panorama by author.