7-25-2015 Jean Therapy in concert & 80th Anniversary Celebration!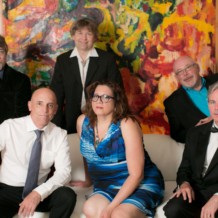 For the second of four concerts in our 2015 Summer Concert Series, Friends of Glen Providence Park is delighted to present Jean Therapy! A little bit retro, a little bit modern, Jean Therapy plays an eclectic fusion of Jazz-Rock, Latin, Blues, and Soul – with a strong female vocal, beautiful keys, and a really nice jazz guitar. 
Afternoon Concert & 80th Anniversary!
Saturday, July 25
4:30-6:00pm
Glen Providence Park stage, State Street, Media
Rain date: Sunday, July 26*
We will also celebrate the 80th anniversary of Glen Providence Park! On July 24, 1935, George and Eleanor Butler signed a deed donating the majority of the land to establish Delaware County's first park as a bird sanctuary and arboretum. The Butlers' grandchildren will join us as we celebrate the anniversary of this generous gift with a concert, and with anniversary cake!
Bring a blanket or chair, and relax on the lawn by the stage to enjoy a late afternoon concert! After the concert, head into Media for dinner and shopping, just 2 blocks away on State Street. As with all of our events, this concert is free and open to the public.
Thank you:
*If the weather is questionable, we will post on Facebook and on our website by noon Saturday whether we will use our Sunday rain date.
For logistics, and for information on our upcoming August and September concerts, please see our 2015 Summer Concert Series announcement!