80th Anniversary Celebration!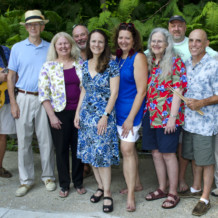 At the wonderful concert with Jean Therapy on July 25, we celebrated the 80th anniversary of Glen Providence Park – with some very special guests! On July 24, 1935, George Thomas & Eleanor Reed Butler signed a deed donating the majority of land for Glen Providence Park to Delaware County. They donated the land as a bird sanctuary and arboretum, and specified that the land be kept in as natural a condition as possible.
We were honored to have as guests at our celebration the two grandchildren of George and Eleanor Butler: Clifford Butler Lewis and Eleanor Reed Lewis, or Cliff and EllieReed. Their grandparents' gift was remarkably generous – it started the Delaware County park system, and generations have enjoyed nature walks, picnics, and community events in Glen Providence Park, including decades of Summer Concerts starting in June 1937!
The stage was built in 1937 by the Works Progress Administration, and is part of what makes Glen Providence Park eligible for the National Register of Historic Places. This summer, Delaware County Parks & Recreation resurfaced the stage for the park's 80th anniversary, for which we are very grateful!
At our celebration, Media Borough Mayor Bob McMahon presented a proclamation to Cliff and EllieReed honoring the 80th anniversary of their grandparents' gift – you can read the proclamation below. Cliff and EllieReed then spoke movingly about Glen Providence Park, including EllieReed's gratitude that the park continues to be preserved in keeping with her grandmother's intent, and Cliff's childhood memories of running on the hill during summer concerts. It was touching to have Cliff and EllieReed there as we marked their grandparents' enduring legacy.
We sang Happy Anniversary to Glen Providence Park, then shared delicious anniversary cake while enjoying a captivating afternoon concert with Jean Therapy!
Thank you to George Tate for the wonderful photos – click on any photo for a closer look!
Remarkably, the Butlers also brought golf to Delaware County in 1896, which you can read about here.