Concert Recap: Jean Therapy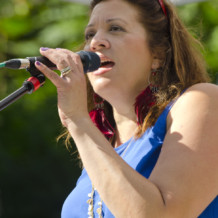 Immediately following the park's 80th Anniversary Celebration, the invitingly intimate outdoor venue of the vintage stage at Glen Providence Park was once again the absolute perfect setting for an evening of live entertainment – this time the solid groove laid down by the talented and innovative JEAN THERAPY on Saturday July 25th at the second in the 2015 Summer Concert series.
The audience of over 200 was treated to a tight 17 song set that covered 60's and 70's hits from Stevie Wonder (Don't You Worry 'Bout a Thing), Joni Mitchel (Black Crow, Freeman in Paris), The Doobie Brothers (Listen to the Music), Bill Withers (Ain't No Sunshine) and others.
Jean Therapy's fabulous arrangement of Richard Rodgers' My Favorite Things from the 60's musical The Sound of Music was a cleverly delightful mash-up of Julie Andrews and Steely Dan, and the conga beat of Santana's 1969 hit Evil Ways had the audience in full sway and clapping along.
We are grateful to Delaware County Parks & Recreation for completing the resurfacing the 1937 WPA stage for the park's 80th anniversary performance of Jean Therapy!
Many thanks to all who made this concert possible: Delaware County Parks & Recreation, Concert Series Sponsors Media Recreation Board and Media Rotary Foundation, Concert Sponsor Diego's Cantina, our volunteers, Marcia Tate for her artful decoration of the stage, the 200+ people who attended, our tireless Concert Chair Lisa Johnson, and of course the talented musicians of Jean Therapy!
Jean Lenke – Lead Vocals & Percussion
Dan McKay – Guitar & Vocals
Joe Major – Keys, Vocals, & Percussion
John Ciliberto – Drums & Percussion
George Livanos – Bass, Vocals
Steve Bartlett – Sax, Flute, Keys & Congas
Click on any photo for a closer look!
Photos by author.