10-31-2015 A Halloween 80th Birthday Celebration!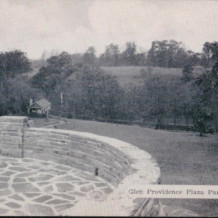 Join Hedgerow Theatre and Friends of Glen Providence Park for a ghostly Halloween celebration of Glen Providence Park's 80th birthday! Get your trick-or-treaters ready, and bring them for spooky songs and poetry, and a visiting witch at the historical Glen Providence Park stage – then celebrate with birthday cake (what's a little more sugar on Halloween?). Trick-or-treaters can head off when they like, or stay with older kids and adults for Hedgerow's staging of fantastical folklore from the park's past.
Saturday, October 31, 2015
5:30-6:45 (leading into trick-or-treating!)
Glen Providence Park Stage, State Street, Media
* Rain date Sunday, November 1 
Free, family-friendly, & open to the public – costumes welcome!
Work started on Glen Providence Park on October 31, 1935 – so this Halloween is Glen Providence Park's 80th birthday! It's a fitting birthday considering the glen's haunted past, as recounted in 1909 in a scrapbook of prominent local physician and historian Dr. Anna Broomall: "Back in the early days of this region before civilization had turned too strong a light on things occult, the neighborhood was peopled with its full quota of goblins, ghosts and witches…"
Two accounts of local folklore documented in that scrapbook took place in Glen Providence Park long before 1935, back when it was called Scroggie Valley: a 1700's Newlywed Ghost Story and the 1800's Witches Ride. Hedgerow will enact both of those strange and eerie tales! Darkening skies, jack-o-lanterns, and majestic trees by the historical stage will lend to the atmosphere:
As the shadows deepen at 5:30, we'll start with Spooky Halloween Songs with Grey Kelsey, Edgar Allan Poe's The Raven with Brock Vickers, and Witches' Play with Susan Wefel.
At 6:00 we'll have cake to celebrate the ghostly birthday of Glen Providence Park. Trick-or-treaters can head off when they like.
As darkness falls, at 6:15 the Hedgerow Ensemble will enact the Newlywed Ghost Story and Witches Ride, with Hedgerow Executive Director Penelope Reed as Dr. Anna Broomall!
Let's bring goblins, ghosts, and witches back to Glen Providence Park for its Halloween birthday!
Presented by Hedgerow Theatre & Friends of Glen Providence Park
Sponsored by Sterling Pig & Friends of Glen Providence Park
With support from Delaware County Parks & Recreation
Thank you:
Event Sponsor Sterling Pig, the exciting new restaurant and brewery located on the border of Glen Providence Park, just one block from the main entrance!
Hedgerow Theatre, our wonderful partner for this community event. This historical theatre in Rose Valley is America's first repertory theatre!
Delaware County Parks & Recreation restored the historical stage this summer for the park's 80

th 

anniversary. They have cared for Glen Providence Park since its creation in 1935, and their support makes our events possible.
* If the weather is questionable, we will post on Facebook and on our website by noon Saturday whether we will use our Sunday rain date.
Dr. Anna Broomall's scrapbooks are preserved at the impressive Delaware County Historical Society in Chester, PA.