Concert Recap: Philly Winds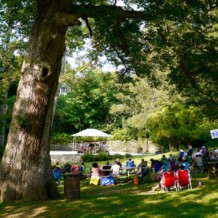 Philly Winds, a local classical winds ensemble, performed a wide range of classical styles for the third in our Summer Concert Series at Glen Providence Park on a sunny Saturday, August 31. Five talented players — clarinet (Bob Stanley), oboe (Ross Gombiner), French horn (Rachel Braddick), bassoon (Lorraine Jewett), and flute/piccolo (Rebecca Simon) — wove complex, intelligent melodies to a nice crowd of 125 or so, on a sunny Saturday afternoon.
With works from Debussy, Mozart, and Milhaud, and a repertoire from all periods and genres, including classical, popular opera overtures, new and Caribbean Jazz-inspired music, the selections bespoke the group's daring willingness to brave complex, heady works — a strikingly ambitious program! All members showed competent handling of wild, fast-paced changes and vast dynamic shifts — jumping between brash and dissonant one moment and subtle and harmonious the next. Certainly the music was enjoyed by all the audience, whether personally familiar or not with classical music.
♫
We are grateful to Delaware County Parks & Recreation for resurfacing the 1937 WPA stage this summer for Glen Providence Park's 80th anniversary!
Many thanks to all who made this concert possible: Delaware County Parks & Recreation, Concert Series Sponsors Media Recreation Board and Media Rotary Foundation, Concert Sponsor Shere-E-Punjab Indian Restaurant, our volunteers, Marcia Tate for her artful decoration of the stage, the 125+ people who attended, our tireless Concert Chair Lisa Johnson, and of course the talented musicians of Philly Winds!
Thank you to Shannon Davidson for taking these wonderful photographs – scroll through to see what it was like!