Concert Recap: Delco Let There Be Rock School!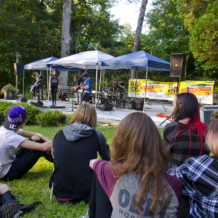 The last concert of the 2015 Summer Concert Series in Glen Providence Park, on the rain date September 13, was provided by the "Delco Let There Be Rock" school in Folsom. The concert was an awesome three hour display of outstanding youth talent and unbridled enthusiasm! John and Melissa Daley, the school directors, rotated bands every two or three songs, for a wide variety of all great rock and roll. The show was dubbed "Media's Mini-Woodstock" by the youth musicians and in fact, a bunch of songs from the original Woodstock in 1969 were played by different groups; which was a lot of fun for the older folks in the crowd of 200 or so.
The set list (original band – song) for the day included Paramore – Misery Business, Mayday Parade – Jersey, Led Zeppelin – Whole Lotta Love, Janis Joplin – Piece of my Heart, The Who – My Generation, Jimi Hendrix – Fire, Greenday – When I Come Around, Nirvana – Lithium, Misfits – Dig up her Bones, Social Distortion – Don't Drag Me Down, Jimmy Eat World – Sweetness, Tool – Sober, Rise Against – Savior, Guns and Roses – Welcome to the Jungle, Steppenwolf – Born to be Wild, Van Halen – Runnin' with the Devil, Iron Maiden – The Trooper, Joe Cocker version – Little Help From My Friends, Bush – Come Down and Alter Bridge – Cry of Achilles. The park was certainly rocking!
The behavior and strong performances of the bands demonstrated both the quality of the performance and musical education and the caring environment provided by the school directors and teachers.
Our event photographer, George Tate, documented the show better than words can describe, so be sure to check out all the photos of the concert below. You can click on any photo and scroll through them.
♫
We are grateful to Delaware County Parks & Recreation for resurfacing the 1937 WPA stage this summer for Glen Providence Park's 80th anniversary!
Many thanks to all who made this concert possible: Delaware County Parks & Recreation, Concert Series Sponsors Media Recreation Board and Media Rotary Foundation, Concert Sponsor Desert Rose, our volunteers, Marcia Tate for her artful decoration of the stage, the 200+ people who attended, our tireless Concert Chair Lisa Johnson, and of course the talented young musicians of Delco Let There Be Rock School!