An 80th Anniversary Year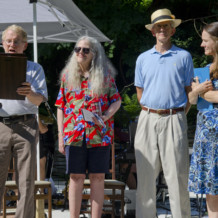 2015 was the 80th Anniversary year for Glen Providence Park! In 1935, prominent Media Borough residents George and Eleanor Reed Butler donated the majority of land for Glen Providence, which would be the first park in the Delaware County system. The Butlers donated the park as a bird sanctuary and arboretum, and specified in the deed they signed on July 24, 1935 that the land be kept "in as natural a condition as possible." Eleanor named Glen Providence "because of its glen-like formation and as it is located in the heart of the Providence townships."
It was on Halloween 1935 when James Stokes, the first park guard, began work on the park under the Works Progress Administration (WPA), a depression-era jobs program. The WPA built all original park structures, including the entrances, the pavilion, several footbridges, and the concert stage.
The day after the park opened, an article in the Chester Times beckoned the public: "Come with your bird glasses, your flower guides, your tree books. Bring the school children and scout groups, and let Nature teach them her ancient lessons." Glen Providence has hosted decades of events and activities including nature walks, birdwatching, scouting events, skating, sledding, fishing, fireworks, concerts, Haunted Woods, and the Great Media Easter Egg Hunt!
In 2015, we celebrated and honored the first 80 years of Delaware County's first park. In addition to our regular monthly events:
At our Earth Day Celebration, we planted trees by the historical stage with Delaware County officials and Media Providence Friends School students.
On the anniversary weekend of the park deed being signed, we held an 80

th

 Anniversary Celebration at our July concert – with the Butler grandchildren Eleanor Reed Lewis and Clifford Butler Lewis as guests of honor!
Read more about the founding of Glen Providence Park and its Halloween birthday, or explore its rich past on our History Timeline. More photos and details about our 80th anniversary events are in the green links above.
We wish you many more wonderful years, Glen Providence Park!
Photographs by George Tate: