4-16-2016 Native Plant Walk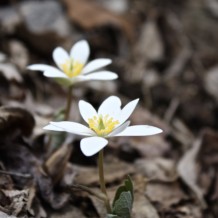 Spring is a wonderful season to showcase the variety of native plants in Glen Providence Park!  Enjoy an afternoon walk through the glen while garden coach Marcia Tate and plant enthusiast Shannon Davidson point out native trees, shrubs, and perennials in the park – while highlighting their many uses, and spectacular beauty, for landscaping.
American Plants for American Gardens
Saturday, April 16
2:00-4:00 pm
Rain date Sunday, April 17
Main entrance, State Street, Media


Learn how native plants provide habitat protection and can be used in a local garden, whether a home, school, apartment, or business. We'll also look for native ephemeral (short-lasting) flowers, buds, and other signs of Spring.
Logistics:
Estimated distance: 1-1.5 miles
Estimated time: 1.5-2 hours
Rain date Sunday, April 17, 2:00-4:00pm
Free!
Be prepared for steep hills, and uneven (possibly wet) terrain: wear your hiking shoes, and bring a hiking pole if you use one.
To add this event to your favorite calendar program (iCal, Outlook, Google, etc.), view the event listing on our calendar.