RAIN DATE 8-7-2016 Shakespeare in the Park!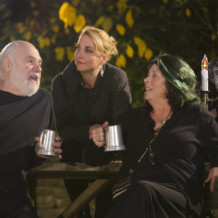 For the third in four performances in our 2016 Summer Concert Series, Friends of Glen Providence Park is delighted to present Shakespeare in the Park with Hedgerow Theatre! In William Shakespeare's A Midsummer Night's Dream, characters are manipulated by fairies who inhabit the forest where most of the play is set. It is one of the Bard's most delightful plays!
A Midsummer Night's Dream
Saturday, August 6
4:30-6:00 pm
Glen Providence Park Stage, State Street, Media
Rain date: Sunday, August 7
RAIN DATE UPDATE: With thunderstorms forecasted for Saturday afternoon, we will use our Sunday rain date. The forecast for Sunday is beautiful!
Bring a blanket or chair, and relax on the lawn by the historical stage to enjoy a late afternoon performance! After the play, head into Media for dinner and shopping, just 2 blocks away on State Street. As with all of our events, this performance is free and open to the public.
Thank you:
If the weather is questionable, we will post on Facebook and on our website by noon Saturday whether we will use our Sunday rain date.
You can see photos of Hedgerow's delightful performance of spooky folklore that took place in the park in the 1700's and 1800's – for our 80th Anniversary Celebration for Glen Providence Park on October 31, 2015! 
For logistics, and for information on our June, July, and September performances, please see our 2016 Summer Performance Series announcement!