Concert Recap: Frog Holler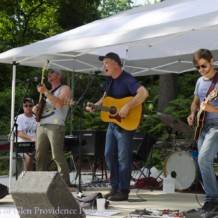 For the first performance of our 2016 Summer Concert Series, Friends of Glen Providence Park welcomed the Rock-Indie-Bluegrass sounds of Berks County's Frog Holler. It was a beautiful sunny summer afternoon that greeted the approximately 250 adults and children as they arrived with blankets, chairs, and hula hoops in tow and settled in for some entertainment.
Frog Holler delivered a standout performance opening with The Sweetest Sound off of their 2003 album Railings. They went on to draw from their eight-album catalog throughout the set including fan favorites Fundamental Blues and To Turn Back Now. As the afternoon drew to a close and patrons began packing up, Frog Holler took to the stage one last time and treated us to an encore. The musically satiated crowd packed up slowly – savoring the beautiful weather and many commented that they were already looking forward to next month's concert.
The fabulous Frog Holler: 
Daniel Bower – drums, vocals
Cory Heller – keyboards
John Kilgore – guitars, organ
Mike Lavdanski – banjo, harmonies
Josh Sceurman – bass
Darren Schlappich – acoustic guitar, lead vocals
Many thanks to all who made this concert possible: Delaware County Parks & Recreation, Concert Series Sponsors Media Recreation Board and Media Rotary Foundation, Concert Sponsor Diego's Cantina & Tequila Bar, our volunteers, the 250-ish people who attended, our tireless Concert Chair Lisa Johnson, and of course the talented musicians of Frog Holler!
Thank you to George Tate for taking these wonderful photographs – scroll through to see what it was like!
Panorama by Stephanie Gaboriault.