Concert Recap: John Flynn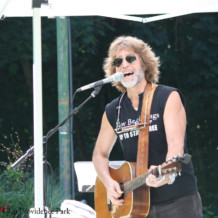 It was a beautiful Sunday afternoon on July 17 for our rain-dated concert in Glen Providence Park with songwriter-activist John Flynn! A consummate performer, John played selections from his wide body of work – ranging from songs for kids to powerful ballads about social justice – and introduced those pieces with anecdotes from the humorous to the poignant. Whimsical songs written for (and with!) children included A Manatee Sneezed on Me (a true story) and My Brother Ricky's For Sale. He addressed current affairs, with the audience singing along to Malala and I Will Not Fear.
A Delaware County native, John has had led a life remarkable not just for his clever and eloquent songwriting, but for his social justice activism, reflected in songs such as Don't Just Do Something (Stand There) and Mercy – about remarkable forgiveness from a man imprisoned for 11 years for a crime he did not commit. Some of his songs are inspired by his volunteer work with incarcerated men for the nonprofit New Beginnings-Next Step. Throughout his performance, John's passion for what he does shone through, evidenced by Bury Me with My Guitar.
We also celebrated the 5th Anniversary of Friends of Glen Providence Park, with birthday cake! You can read our concise "Friends of Glen Providence Park by the numbers" to see what we've been up to in our first 5 years.
Many thanks to all who made this concert possible: Delaware County Parks & Recreation, Concert Series Sponsors Media Recreation Board and Media Rotary Foundation, Concert Sponsor Seven Stones Cafe, our volunteers, Marcia Tate for her artful decoration of the stage, the over 100 people who attended, our tireless Concert Chair Lisa Johnson, and of course the talented John Flynn!
Click on any photo for a closer look, or scroll through to see what it was like!
Photos by author.