9-24-2016 Plantings for National Public Lands Day!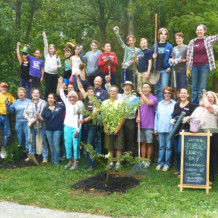 On National Public Lands Day, the Friends of Glen Providence Park will plant native trees, shrubs, and perennials at the lovely Kirk Lane entrance in Upper Providence. This is Phase 2 of last year's planting project at Kirk Lane, improving wildlife habitat, replacing fallen trees, and beautifying the park!
Native Tree & Shrub Planting!
Saturday, September 24
rain date Sunday, September 25
9:00-12:00noon
***Glen Providence Park – Kirk Lane entrance***
This is one of our most popular and fun events – check out the photos from last year's Phase 1 planting at Kirk Lane! We are incredibly grateful to Delaware County Parks & Recreation for providing funds for this project, to the Delaware County Conservation District for the use of its Conservation Planting Trailer and supplies, and to Taylor Memorial Arboretum for donating some of the trees and shrubs.
To help us plan our time effectively, and to plan for refreshments, we ask that you RSVP for this event at FriendsoftheGlen [AT] gmail.com – please let us know the number of volunteers in your party.
Volunteering details:
We will update this description as we identify other relevant details for volunteers. Please contact us to register.
Estimated time: 9:00am-12:00pm
Lunch and drinks will be provided for registered volunteers.
Activities will include:
digging holes for the trees and shrubs
spreading woodchips
installing deer protection around trees and shrubs
watering
Of course, we also welcome anyone who wants to participate by picking up trash along the trails and stream!
More logistics:
We will provide the equipment, including shovels, spades, rakes, and wheelbarrows – but if you have favorite tools, feel free to bring them!
Bring work gloves if you have them.
Rain plan:
Our rain date is Sunday, September 25 at 9:00 am. If the weather is not clear, we will post here and on our facebook wall by 8:45 am Saturday advising whether we will use the rain date.
To add this event to your favorite calendar program (iCal, Outlook, Google, etc.), view the event listing on our calendar.
Thank you, we hope to see you on National Public Lands Day!