Concert Recap: Divas à la Carte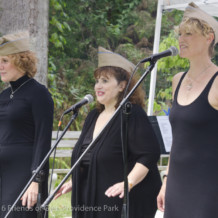 If ever there was musical entertainment designed for and exquisitely delivered from the Glen Providence Park outdoor stage, it was the reunion concert of Divas à la Carte. The dynamic trio of Heidi Starr, Deborah Snow and Linda Tripolitis wowed the audience with their incredible range of vocal styling and their masterful genre-jumping, skillfully accompanied by Marie Anderson.
On a sultry summer evening on September 10 in the Glen, the Divas – in both ensemble and solo modes – delivered a combo of hot show tunes ("I'm Gonna Wash That Man Right Outa My Hair" from the musical South Pacific), cool jazz ("Summertime" from Porgy and Bess), opera (Lakmé), and some early jump blues ("Boogie Woogie Bugle Boy", an iconic World War II tune considered a precursor of rock and roll).
Especially well received were the signature song of popular French singer Édith Piaf "La Vie en Rose" and the Yiddish tune "Bei Mir bist du Schön" ("To Me You're Beautiful"). Heidi Starr's turn as a tipsy chanteuse in "Vodka" was hilarious, charming and… well, just had to be seen!
With feather boa, bath towel, army cap and "vodka" bottle props in support of their exquisite voices, tight harmonies and Broadway-quality theatrics, the Divas enlightened, enlivened and entertained their audience and brought a fittingly regal close to the 2016 Summer Concert Series.
Many thanks to all who made this concert possible: Delaware County Parks & Recreation, Concert Series Sponsors Media Recreation Board and Media Rotary Foundation, Concert Sponsor Tagine Restaurant, our volunteers, Marcia Tate for her artful decoration of the stage, the over 90 people who attended, our tireless Concert Chair Lisa Johnson, and of course the talented Divas!
Click on any photo for a closer look, or scroll through to see what it was like! Photos by George Tate.